This week I shared an Ethereal tunic using Glitz fabric and mentioned I would be writing a bit about a couple different ways you can use the pattern to make it your own.  My mother joined in on the fun and added little touches to each of the garments for my niece.  On each piece she hand stitched a heart somewhere on the garment and gave Ofelia the task of trying to find the little hearts, some obvious and some slightly hidden.  I think this is a great little thing you could do on multiple garments during the month of February or just once on their outfit to wear on February 14th.
The first way to change up the blouse to offer a different look is to simply not use the frill in the front.  Some girls just aren't frilly or you're a really smart seamstress/pattern maker and while putting together the instructions for the pattern you completely forgot to add it!  (haha)  Well a little error ended up being a great opportunity to show off this goodie. 
 She used the running stitch to create this little heart inside a heart, a blanket stitch along the neck line and another running stitch along the hem. Mom also added a little heart cut out for the undershirt using Heat Bond (love). For this blouse I used Robert Kauffman Essex fabric that had lovely drape and is super soft.
To pair with the blouse I add a UFO sitting in a box from almost 2 years ago that just needed buttons and a little extra love.  The fabric I used for this Ayashe skirt was something Karen from OGC  had found and made some yummy Dillinger pants with and I was instantly hooked.  I found some at JoAnns and I bought 4 yards of it  (4 years ago) because it had such nice drape. Whenever I come across a piece I think of her.  
Mom added red topstitching and a little heart.
Next up a bubbled Ethereal blouse.  For this look we omitted the frill once again and simply add 2" to the bottom of the Ethereal tunic hem length and cut 2 for the main and cut 2 for a lining then bubbled (tutorial coming soon).  We used the long sleeve option but angled the sleeve slightly to give it a feminine touch.   Fabric is by Bernatex. Can you find the heart? 

Lastly, I had created this Ethereal blouse when I was writing instructions for the pattern and there are no changes just a cute crocheted heart for a special touch.  The fabric used was a brushed cotton I found at EE Schenck when picking up supplies for a sewing class. Super soft and perfect for the chilly weather season.  
I would love to see how you make a Figgy's pattern your own so upload a photo on the Figgy's Facebook page, flickr group or share on Instagram and use hashtag #figgys.   
Next week on the blog: 
Beginning on February 4th the "Heavenly" pattern tour begins with a ton of wonderful bloggers/designers showing off their little or big Figgy garment!  Stayed tuned to hear all about a BIG GIVEAWAY at the end of the tour!!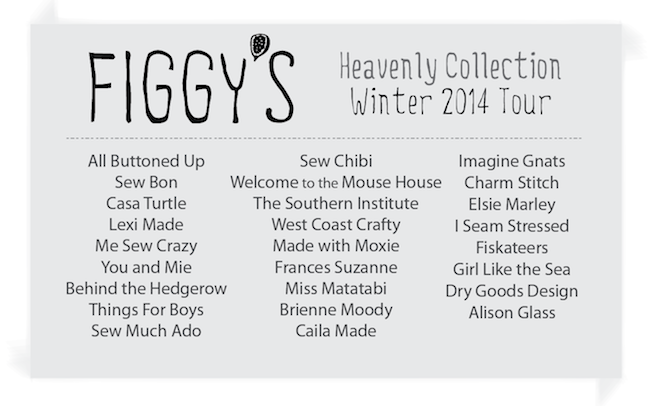 Happy Sewing - Shelly

---