Another amazing week of inspiring garments were created last week!!  The picture above from The Southern Institute shows exactly how I feel about last week and below is a quick re cap in case you missed a day!

The Southern Institute





I'm so sad to report this is the last week for the tour but happy to share this weeks line up!!
Monday /  Charm Stitch
Tuesday / Sew Bon
Wednesday / Elsie Marley & Fiskateers
Thursday / Girl Like the Sea
Friday / Alison Glass & Dry Goods Design
Don't forget to enter to win the grand prize! Winner will be announced next Monday!
---
What an amazing week Figgy's tour is heading into!
Monday 
Tuesday
A blog full of talented 
designers, and most recently the creators behind STYLO magazine.
I have followed and admired Cherie for so many years now and am so proud to have her on the tour. One of my most favorite series is on her blog

Japanese Sewing Series

. 
Wednesday 
Laura from Behind the Hedgerow
Sewing: girls, boys, women, men, toys and accessories.  The mastermind behind this blog has sewn it all! My favorite is to read her sewing conversations and thoughts as much as I admire her other talents.
Thursday
Kelley from Casa Crafty 
She has DIY,  a shop & 365 days of makes all lined up.  
Not to mention Kelley cracks me up!!!  Talent and funny..great combo!
Abby from Sew Much Ado
First I can't help but state that she is one of the sweetest gals you'll ever know!!  
Pattern designer, blogger, tutorial writer of so many great projects and almost mommy of 4!
I'd say thats a pretty good line up for this week!  Be sure to stop at each blog this week because I think some are hosting a giveaway!  Enter below all month to win the grand prize too!
Happy Sewing - Shelly
---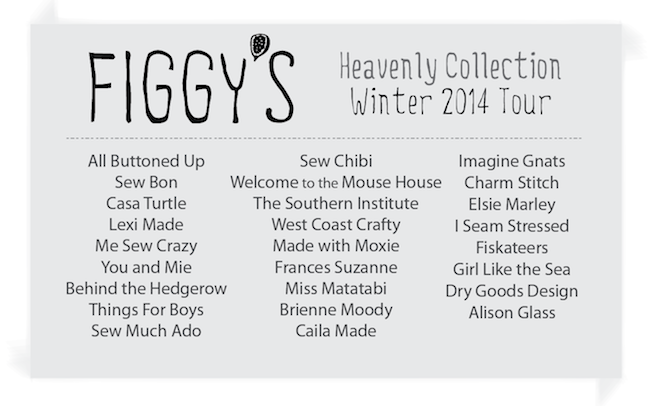 26  talented bloggers & designers during the entire month of February are sewing a pattern from the Heavenly Collection!  First up is the super creative and fun Sew Chibi!  She's a local Portland gal with the biggest heart and  two adorable little girls (and one on the way).  Most recently you'll find her work in STYLO magazine featuring a tutorial on how to make a "Bumble Pocket Scarf".   Thank you so much Kataryna!!  

Each day stop at the next blog (just click on the blog name above) for a chance to win a Figgy's pattern!!

Here on the Figgy's Blog you can enter to win a grand prize!
A special thanks to the following prize donors!
So what's the big prize you ask?
Here's the list!
Fiskars Fabric Shears, Detail Scissors, Rotary Cutter and Extra Blades
Bernina Rolled Hem Foot & Buttonhole Cutter
$25 Gift Certifcate from Girl Charlee 
A stack of gorgeous Fat Quarters from Alison Glass 
Beautiful Eyelet yardage from Michael Miller
A lovely stack of Fat Quarters from Art Gallery Fabric
 Susan Beal's new book "Easy Embellishment"
The Heavenly Bundle Collection from Figgy's 
Well, what are you waiting for...ENTER TO WIN NOW!!  
Winner will be announced March 3rd, 2014
Happy Sewing - shelly
tomorrow a feature from All Buttoned Up...a gal I adore and highly respect as a doer, giver & friend. 
---

I'm so excited to kick off GIVEAWAY week for Kid's Clothes Week!  
For this kids clothes week we were influenced by Frances Suzanne, sewing with sisters, and their ever popular "Flip This Pattern".  I would say what we've done isn't a full on flipped pattern but they've sparked the inspiration to play around with our most recent pattern release "Heaven".  I love, love, love to see people take well constructed patterns and make them "their own" by changing it up a little.  If you have a good standard T-shirt, Skirt or Blouse pattern you can continue to use the block and get creative!  Alexia from Lexi Made I think does an amazing job at that, look at what she did with the Sunki pattern!
For my first KCW project we decided to give the Celestial Tee pattern some more ways to be used.  Not everyone is ready to take on sewing with knits and making t-shirts with bands so why not use 100% cotton by just tweaking the pattern a little.  For this example we choose a gorgeous Art Gallery Print by Angela Walter "Legacy" and we paired it with a Michael Miller eyelet fabric used with our Celestial Maxi Skirt pattern.  I couldn't believe how perfectly these colors complimented one another.  I believe if you're going to use 100% cotton for a shirt like this use something light with good drape.  Art Gallery has wonderful quilters cotton that still have amazing hand and good drape.

We decided to keep the front with the nice pleating detail and keep the sleeves a nice spring length that is still roomy enough for layers.  The only thing that really needed tweaking was the neck opening.  
Options:  Buttons down the back, exposed zipper or a simple little slit.  Since I'm one for quick and simple I went with a little slit.  
To achieve this look you simply find the middle of the back and cut a 3" slit down the middle beginning at the neck line.  To finish the neck edge we took fabric from the coordinating Celestial Maxi Skirt and created our own eyelet bias trim.  Added a little button loop and button. Voila!  Now you have a pattern that you can create comfy stylish t's or dress it up a little with gorgeous cotton.  

Would you like to try flipping/tweaking your own Figgy's pattern?!  Enter to win at KCW blog for a chance to win a PDF pattern from the new "Heaven" collection!  Contest runs for one week.  I'm really looking forward to see what everyone is making next week!!!  I'll be adding projects myself so stay tuned here for more semi-flipped Figgy's patterns!  
Enter to win here: http://blog.kidsclothesweek.com/2014/01/figgys-giveaway
 Oh, by the way, enter coupon code KCW10 between now and the end of KCW for 10% off any Figgy's pattern!!
Happy Sewing - Shelly

---
Hello Everyone!!!  
What a joy it is to welcome a new year!  2013 was full of up's and down's and life's little challenges but I'm hopeful that through it all we learn and evolve into what is meant to be.  I'm going with the glass is half full attitude!  
I have blessings to count and people to thank for all the up's of 2013.  
So if you have a moment to read on please do.  
As you probably may have noticed I took some time off from publishing patterns to focus on teaching children (and some adults too) how to sew.  By the end of 2013, Three Hundred and Twenty (320) kids walked through my home studio door and I have the community to thank for that!  At the end of 2012 I attempted to raise money to open a store front and was able to raise over $4000.00 and although that was not enough to open a shop it was enough to update my home studio with all the things we needed to teach, and over $3000 was given to children in need of sewing scholarships!  Every dime was put to good use and we have over 320 kids walking around town in their own handmade garb and accessories!  It is my greatest joy seeing the smiling faces after they've created something themselves.  Donations will continue to be accepted if you ever find yourself with extra fabric or thread just email me and I'll send over all the information you'll need to donate.  If you would like to sponsor a child in need, in the way of a scholarship that can also be arranged.
 Some great news for those that live too far from my home studio....this week I'll be finishing up the filming of an online class that is especially for your young sewist at home!!  (more info coming soon)    

This past October I had the pleasure of working with my son's schools HOPES committee on an exciting project. On March 8th of this year, Figgy's sewing Studio in collaboration with Hallinan Elementary School's HOPES commitee is hosting a "Sewing for Shriners" day.  Hallinan school is opening the school's gymnasium for an all day Kids sewing for Kids day!!  The chairperson for HOPES has a daughter that has had multiple surgeries at Shriners Hospital and each time she has had surgery she is double wrapped in a very itchy and ugly adult gown (a great word for this gown ...depressing). They don't have children's gowns and we are going to change that!  So far we have had 8 bolts of fabric donated!!  A special thanks to Robert Kauffman & Art Gallery Fabrics for donating fabric for our cause!  If you happen to have extra flannel fabric yardage in good condition or thread please send me an email and I can send over a donation document and information as to where you can send fabric/notions to help this cause!  OR if you'd like to sew a gown yourself and mail it in for the day's event I will send you information on that too!  Just email me at shelly@figgyspatterns.com!  
Have a look at the "before & after" the last time this sweet girl went in for surgery: 
Ahh! The Robert Kauffman Balloon Flannel is SO MUCH BETTER!!!  (Fabric by Anne Kelle)

I would like to thank A Common Thread studio for providing my students with the best of the best in sewing machines.  Laura Wallace-Dickson, owner of A common Thread and Bernina have provided 6  Bernina 350 sewing machines and 2 Bernina Sergers for my students to learn.  If you live in the area and are looking to purchase a new machine she and her employee's are extremely knowledgeable and can direct you to the best machine suited for your needs!  If you are currently a Figgy's student they offer 10% off just for you!!  I'd also like to thank Bolt Fabric Boutique in Portland and The Pine Needle in Lake Oswego for offering all Figgy's students a discount on supplies for classes!  Your support for Figgy's Kids is greatly appreciated!!  

The last "up" for 2013 was releasing a new collection.  It had been about a year and it was time.  It was important to me to have this new pattern collection full of staples so I went with a bit more on the stylishly simple rather than the super expert chop full of details patterns.  I wanted to provide sewists with a wardrobe that can be created in just a weekend and have it full of garments that can be worn all year long by simply layering or using as is.  If you missed the release in November then I give to you the "Heavenly Collection".    The official pattern tour will begin in February with a ton of fun bloggers sewing up their new favorite Figgy's look!  Stay tuned for more details coming soon!

 To kick off 2014 I'm super excited to be a sponsor in the upcoming KCW (Kid's Clothes Week)  January 27th - February 3rd!!  This is one of my favorite blog follow alongs and this year I'm even hoping to participate!  Meg & Dorie are hosting a great line up of guest posters:   Laura from behind the hedgerow, Brienne from briennemoody, Sanae from sanaeishida, and Tara from girl like the sea. These talented women have some fantastic posts in store for you. I hope you are able to follow along too!

Lastly, I'd like to thank two people that recently helped me release this new site and new patterns.  Rob Alan my visual designer and Susan Yates a brilliant graphics gal and more!  I wouldn't have been able to move forward with a new collection without you!  
Thank you!
I look forward to a very fun and creative 2014!!!!
And thanks to YOU for sticking around all these years watching me evolve and grow!!!
-Happy Sewing
Shelly

---
seraphic pant November 26 2013,

0 Comments
having a sweet nature
Maybe it's because I'm forty or maybe I'm just really smart, but I love my knit pants.  They are cozy enough to wear curled up on the couch with my husband yet stylish enough to  go out to dinner. Designing a pant that kids would love but mom's loved making I knew that meant comfort and style.  

The Seraphic Pants have fun details like center topstitched seams down the front and back of the leg panels, roomy pockets, faux fly and elastic waistband.  I also like the slight drop in the center seam that adds a touch of modern without the dramatic harem pant look.  These pants pair beautifully with any of the new Winter '13 patterns and are the perfect staple for your child's wardrobe!  
 Shelly
---